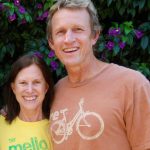 Deeper Intimacy
"Val's guidance has allowed us to communicate in ways that have deepened our emotional connection. Many of our private fears that we thought we could never dissolve have disappeared and our love continues to grow deeper and richer with each other." ... more
Paul and Elyse Walters, San Jose, CA 
Client Base Has Increased
"Working with Val...my relationships with family and friends have improved and my client base has increased. I feel empowered and am having lots more fun!"
~Karen Deibel, Columbus, OH
Spontaneous Manifesting
"Since my sessions with Val, little and big things that I've wanted, from a span of 20 years or so up until the present, are being spontaneously manifested. It's surprising and fun!"
~Sandy Murphey, Novato, CA
Attract Your Partner
"When I began working with Val, I thought an honest, supportive relationship was impossible. He helped me attract my harmonious life partner, and we continue to grow together. Thanks to Val, we're still going strong!"
~Anjali S., Northern CA
Sleep Problem Resolved
"I am thankful to Val for his effective work with me that has had an immediate and positive impact on my sleep problem. It has now become easier to fall and stay asleep."
 ~Lucy G, Columbus, OH
Improved Self Esteem
Val's gentle probing and nonjudgmental professionalism helps me feel safe to dive fearlessly to the source of my problems. Invariably his sessions are punctuated by bursts of laughter, frequent "ah-has" and occasional tears from old memories. He is a master at correctly intuiting my feelings and reframing those early childhood misconceptions which still persist in undermining my self-esteem. God bless Val ... my transformational life coach.
~Alan Larson,
M.D.
Magical Relationship
We may not have met and definitely wouldn't be together now if it weren't for Val's profound support. Today, our relationship is magical and a source of inspiration to others.
Lisbeth and Hall Johnson
Profoundly Moved
"In the last 3 years, I have been through many large and small group sessions with Val, and I have yet to meet anyone who was not profoundly moved by, and grateful for, the opportunity to work with him.  His is the first form of emotional process work I have seen that is completely non-invasive and non-traumatic.
~Metta Zetty
Deep Healing
"Val is helping me heal the deepest parts of my human soul! I had tried therapy, and other spiritual type growth seminars (all helped in part), but Val is the most exceptional coach/counselor I have ever worked with. I am forever grateful! He can "hear" in ways no therapist has been able to do for me. This is NOT ordinary counseling. Val will give you "new tools" for your tool box. Like me, you will begin to enjoy life's journey and flourish with deeper authentic vitality, love, intimacy, health, happiness, and self-expression. See More
Elyse Walters
No Regrets!
"A few months ago we were looking for a relationship coach. We chose Val Logan. He mainly works over the phone, and we could not imagine how this would work. We both had done counseling before, but Val 'blew our minds.' I can attest to all the testimonials and claims made on his website and strongly recommend him for relationship coaching and personal growth work."
Martin Ucik